Working with Emberea:
Helping you plan your change or find its missing piece
Here's how we help:
Test for reactions to your change
We provide you with a free sample block of Reaction Reflector assessments to distribute as you best see fit.
Free calculation and analysis
We calculate your sample results and identify potential themes.
Free initial consultation
We discuss your sample results over video or audioconference and help you think through what, if anything, to do next.
Feedback, education, consulting, and coaching.
Find more about the three levels of Reaction Reflector feedback, education, and coaching.
Transfer of knowledge
Our goal, as we work with you, is to transfer as much knowledge as you would like. We provide full implementation support and build your capacity as we go. Future certification programs will attest to your level of expertise with our methodology.
Imagine!
How efficient would your change effort become if you could do what's needed, and nothing more, to help people move to the Readiness response?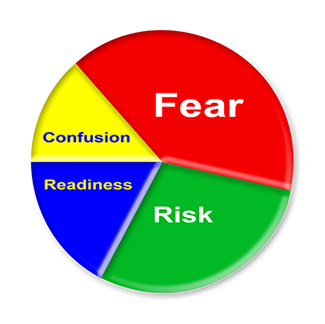 The proven reactions to change
How the Reaction Reflector helps.
The Reaction Reflector helps you apply evidenced-based techniques based on real, not presumed, reactions to your organization's change effort. This saves time, money, and resiliency. We can help you measure, implement, check, and adjust your change effort, driving your organization directly to change adoption.